Rug Repair Services in Cincinnati, Amelia, Bethel, & Dayton, OH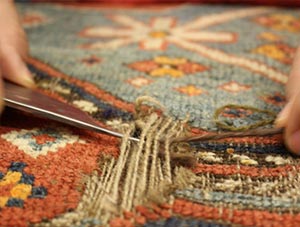 Teasdale Fenton Cleaning & Property Restoration has earned itself a trustworthy position in the customers' minds for its top-notch rug repair services in Amelia, Bethel, and dozens of other cities within our Greater Cincinnati & Dayton service area. We can repair a wide array of area rugs, including Oriental, Persian, Cowhide, Leather, Indian, Afghan, and more.
Visit Our New Rug Cleaning Website
When it comes to rug repairs and rug maintenance, we stand ready with rug pads, pet odor removal, rug protection, area rug cleaning, and more. When it is time to clean or repair your treasured Pakistani, Moroccan, Tunisian, Turkish, Spanish, or Navajo area rug, you can rest assured that Teasdale Fenton Cleaning & Property Restoration IICRC-certified technicians have been specially trained in that area.
For more than 15 years, we have set the industry standard for rug repairs & rug care services in Decatur, Latonia, Neville, and Manchester. When you need our help, call Teasdale Fenton Cleaning & Property Restoration at 513-729-9793
Rug Repair Services by Teasdale Fenton Cleaning & Property Restoration in Cincinnati
In order to prevent any rug damage or normal wear & tear, get your rug inspected periodically. This will also prevent more extensive and expensive rug repair & restoration costs. Services provided by Teasdale Fenton Cleaning & Property Restoration include: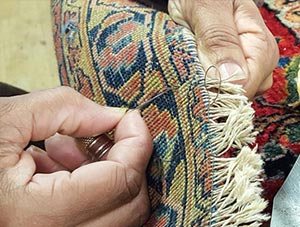 Fringe Repair - Repairing or totally replacing fringes of the rug
Serging & Binding - Finishing edges of the rug through serging & binding
Patching & Reweaving - Repairing area rug holes and sewing tears & cuts
Backing Repair - Attaching new rug backing
Brightening & Color Correction - Restoring the rug's natural luster
Blot Spills - Removing liquid spills right away
Fringe Repair
After examining the Oriental rug, based on the rug construction, the type of fringe repair is required. If the rug's edges are hand-knotted, then re-wrapping by hand is required, while paying close attention to the rug's specific colors and structure. This elaborate and meticulous process is performed by hand.
Power fringing is the preferred method of repairing when the Oriental rug is machine-made and it's a quicker process too. In case of completely changing the fringe, you can choose from a wide variety of colors and fabrics offered by our members. Moreover, you may also choose to remove the fringe altogether.
Serging & Binding
Serging is a way of providing the rug with a finely finished appearance. In the case of your Oriental rugs- wool, cotton or synthetic thread must be used in order to protect them and keep them from unraveling. Depending on the rug's construction, both hand or machine serging is provided to the rug. Firstly, it's made sure that the rug's edges are solid enough. In case, the rug requires edge repairs, a reinforcing is done prior to serging for durability and long-lasting repairs.
When the tufted carpet is made into rugs, binding is primarily used for repairing them. A narrow strip of fabric is placed over the raw edge of the rug and then secured to prevent fraying, in order to give the rug a nice finished look.
Patching & Reweaving
Rug patching, sometimes, can be economically and aesthetically the best way to repair many Oriental rugs and other heirloom rugs. Patching is recommended to be done as soon as holes are discovered to prevent more extensive damage.
Rug reweaving is recommended depending on the value of the Oriental rug and the extent of the damage. This is undoubtedly the best and the most thorough method to repair your Oriental rug or another fine area rug to near original condition, though it's time-consuming.
After cleaning the damaged area, new threads matching the texture and color of the original rug are sewn into the hole to rebuild the foundation of the rug. After that step, the knots are precisely duplicated in the original design to make the repair works barely noticeable.
Backing Repair
Old or worn-out backings on any of the tufted area rugs, hooked rugs, or machine-made rugs are replaced to protect and maintain the area rug. The rug with a new backing will have a longer life as it helps secure any rug tufts, knots, fringe, or scrim.
Trust Your Rug Repair to Teasdale Fenton Cleaning & Property Restoration in Bethel & Greenfield
Contact Teasdale Fenton Cleaning & Property Restoration online or call us today at 513-729-9793 to receive the best rug repair services in the Greater Cincinnati Metro Area. When it is time to repair your rug, we offer free pickup and delivery services, as well as superior repairs for all types of area rugs in Amelia, Bethel, Cincinnati, Greenfield, and other parts of our three-state service area in Ohio, Kentucky, and Indiana. You can count on Teasdale Fenton Cleaning & Property Restoration for quality because our credentials include:
Cleaning rugs for over 15 years
Rug cleaning & repair specialist
State-of-the-art cleaning equipment & facility
Stain removal experts
Certified to clean even the most delicate rugs