Keep Your Office Carpet Clean in Cincinnati, OH
Carpeting, upholstery, leather, and area rugs cost businesses millions of dollars. That's why companies all across the country have selected Teasdale Fenton Cleaning & Property Restoration to not only preserve their investments, but also to maintain their offices, retail, and commercial spaces healthy and looking fantastic.
Teasdale Fenton Cleaning & Property Restoration is the perfect choice for businesses of all sizes – from small local businesses to multi-location operations to coast-to-coast national accounts  – because we deliver a deeper clean that is healthier for your employees and customers without interfering with your business activities.
We appreciate that you want to keep your customers and staff in a clean and healthy atmosphere. Our constant innovation has resulted in cutting-edge equipment and cleaning solutions, allowing us to give a professional cleaning service that provides a deeper clean, dry carpets and upholstery faster, and promotes a healthier work environment.
Call us today at 513-729-9793  to know more about our office carpet cleaning with free estimates!
Benefits Of Office Carpet Cleaning By Professionals in Cincinnati, OH
If you want a productive workforce, you've to maintain a hygienic workplace. This is because the workplace environment impacts employee morale in positive and negative ways. Here are some benefits of using a comprehensive carpet maintenance program in your business: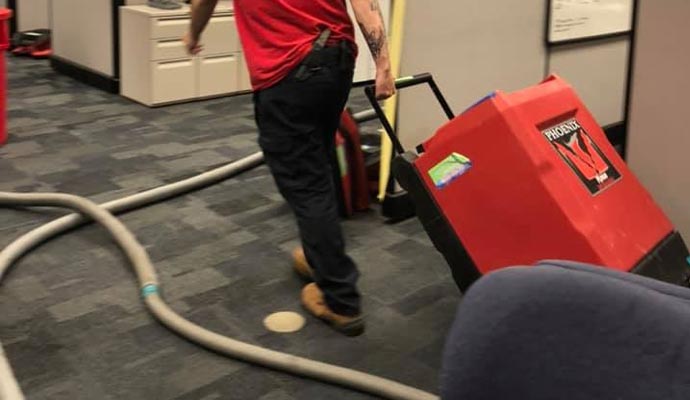 Long-Lasting Life of Carpet: One of the most significant costs in your organization is office maintenance. As a result, you must preserve all of the fittings to avoid costly repairs and replacements. Your sparkling carpets will gather dirt, dust, allergies, and other debris over time. This weakens the fiber structure, causing it to break and tear. Our carpet cleaners use the best techniques to clean and sanitize your office carpets. This maintains the floor covering in mint condition.
Improved Productivity: As a business owner, you want the best from your employees. One way of doing this is by providing an enabling work environment. A clean, well-organized, safe, and healthy environment boosts employee productivity. Clean carpets contribute greatly to productivity in your office. Your workers will not fall sick easily, which guarantees a higher output.
Expert Stain Removal: Sometimes it's hard removing the stains and often unsuccessful exercise due to a lack of cleaning knowledge and the right equipment. Don't despair if your office carpets are a battered mess; a thorough professional cleaning with us can go a long way towards reviving them, and our experienced cleaning technicians know how to handle all kinds of stains.
Cost-Savings: Professional carpet cleaning saves your business money in various ways. For instance, carpet cleaning reduces employee sickness. This saves you money and boosts productivity in your business. It's also more cost-effective to use these professional cleaners than using in-house cleaners.  Maintaining a full team of in-house cleaners takes a huge chunk of your revenues.
Reduce Sickness of Office Staffs: A routine carpet care can dramatically improve your employee absentee rate. Community-spread viruses, and the poor indoor air quality caused by things like mold, resulting in a considerable number of employee sick days each year. Adequate commercial cleaning is the key to cutting down the number of days your staff is stuck at home instead of at work.
Rely On Us For Office Carpet Cleaning in Cincinnati, OH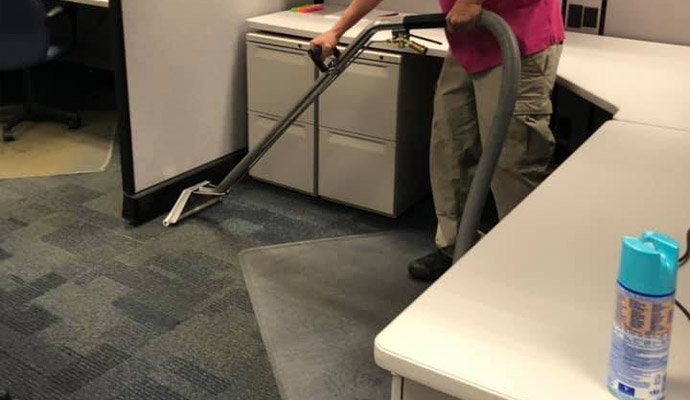 With us, you know you're working with a true commercial cleaning professional and partner that offers the industry's strongest 100%-satisfaction guarantee. Our quality service comes at a competitive price and with better results. Our advanced custom commercial cleaning technology, solutions, and methods result in a superior office carpet cleaning you and your occupants will notice. 
To minimize disruption, we provide office carpet cleaning services after hours, on weekends, and around your schedule. Our service techs work quickly while respecting your work environment. You can trust our highly trained, certified, and background-checked commercial cleaning service tech to show up on time, work professionally, and get the job done quickly and correctly the first time around.
You can reach us in Aberdeen, Amelia, Bellevue, Bethel, California, Chilo, Dayton, Dry Ridge, Eaton, Falmouth, Florence, Greenfield, Hamilton, Hebron, Independence, Jonesville, Kenton, Latonia, Lynx, Mason, New Paris, Newport, Okeana, Oxford, Patriot, Ripley, Ross, Sabina, Trenton, Union, Verona, Walton, West Union, and other cities throughout our OH service area.
Apart from office carpet cleaning, we also provide services for Steam Cleaning, Pet Urine & Odor Treatments, Wood Floor Replacement, Carpet Dyeing, Concrete Cleaning, Fire Damage Restoration, Smoke & Soot Restoration, Rug Cleaning, Encapsulation Cleaning, Sanitation & Disinfection, Duct Cleaning and many more! Call us today at 513-729-9793 or contact us online to get our services!