Sanitation and Disinfection from Teasdale Fenton Cleaning & Property Restoration
If you're looking for sanitation and disinfection services for your home or business, look no further than Teasdale Fenton Cleaning & Property Restoration. We've implemented a variety of safety features for our employees and patrons, as well as provided new services for families and businesses who feel they need a little extra sanitation or disinfection.
Our services are now 100% touchless, meaning you don't have to have any interaction with the technician who comes to sanitize your home. We also completely disinfect all of our equipment after each job, ensuring we are not transmitting germs between homes. Each technician is provided with gloves, booties, and masks.
Each of our employees gets their temperature taken before work each morning and signs a waiver verifying no one in their home is showing symptoms of illness. We want to make sure your sanitation and disinfection process leaves your home or business clean and safe!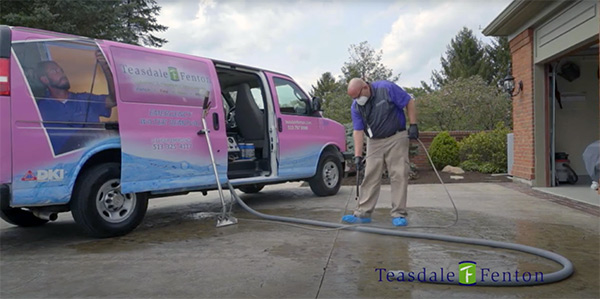 The CDC states that sanitation and disinfection is an important first step in remaining healthy. Our deep cleaning process is designed to remove any invisible viruses (including coronaviruses) from the surfaces of tables, chairs, couches, and more. Your carpet, tile, upholstery, and hardwood can also be disinfected and sanitized with an EPA-certified disinfectant.
We have also introduced Touch Point Cleaning, a method designed to target the high-touch areas of a room. This includes door handles, desks, light switches, and more.
Fogging is another great way to sanitize and disinfect your home. This method produces a fog to ensure the even distribution of disinfectant over all surfaces of you home. This even includes walls!
Right now, there's nothing more important than keeping yourself, your family, and your business safe. Our goal with our sanitation and disinfection services is to keep your healthy. If you're interested in learning more about our carpet cleaning, sanitation and disinfection services, or any of our other home/business work, contact us today!