Cleaning & Maintenance Of Hotel Carpets in Greater Cincinnati & Dayton
As the hospitality sector operates 24 hours a day, there is little time for cleaning. Most hotels and motels offer daily and weekly room cleaning. Guests can decline the daily cleanings but are usually forced to allow a housekeeping staff member into their room at some point during their stay. This can create a problem because you will want to clean carpets in rooms daily to ensure the carpets stay in good condition. If a guest will not allow someone to clean the room until they leave, you will have to conduct a thorough carpet cleaning service after the guest leaves.
Your hotel carpet installation is a big financial and brand commitment. A consistent and effective carpet care program will help you preserve your facility's initial appearance while also extending the life of your financial investment. Color, pattern, density, material, and a feasible care schedule all influence the look of your carpet.
If you require carpet cleaning for your hotel or any other commercial business, give the carpet cleaning experts at Teasdale Fenton a call at 513-729-9793. We clean all types of carpet, area rugs, and upholstery. You can also contact us to know about our services with free estimates!
Get The Best Carpet Cleaning For Your Hotel in Dayton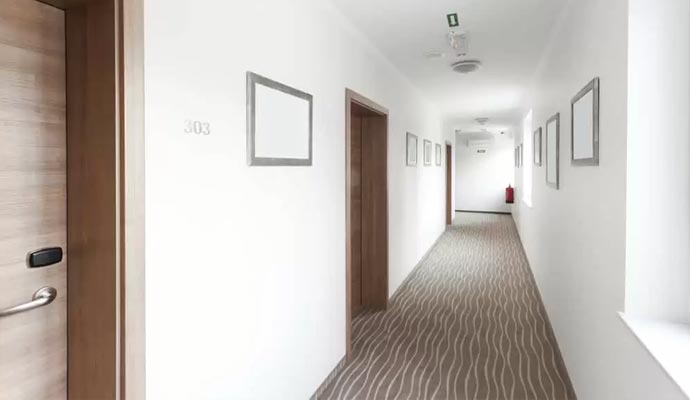 We understand that commercial carpet cleaning is more than just cleaning carpets. Granted, we make sure your carpets are cleaned to the highest standards, but we know it's just as important to make sure there is no disruption to your everyday operations, and that we treat your customers with the ultimate respect and professionalism.
A carpet can be ruined by everything from wine to soft drinks, candle wax to chocolate if you host weddings, parties, conferences, meetings, or happy hours. We use powerful truck-mounted extraction systems that dispense water at 180°F – 120°F at 500 psi and vacuum at 12 -15 InMg to clean your carpet. Using up to 500 feet of hose, we can effectively clean carpets in virtually any size hotel.
Our hotel carpet cleaning package includes all of the rooms and hallways, as well as the lobby and common areas. We utilize a "very low moisture" (VLM) encapsulation method, which is a new cleaning technological innovation, to clean the carpets in hotel rooms since carpets used in hotels need to dry quickly. A pre-conditioner is used, which is a detergent that temporarily dissolves the bond of dirt to the carpet.
Count On Us For Professional Hotel Carpet Cleaning in Cincinnati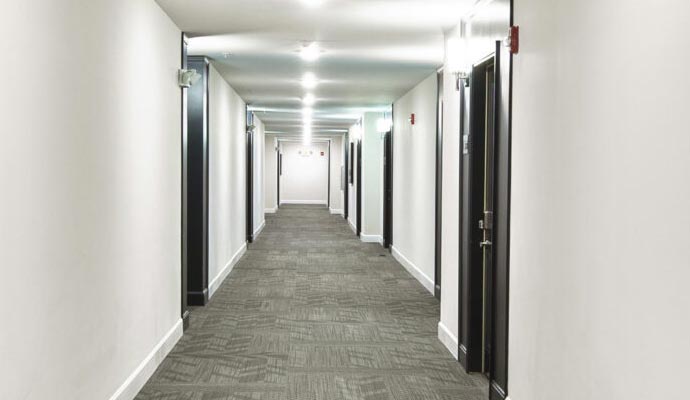 We aim to maintain a healthy, attractive, clean establishment without inconveniencing your guests. Our carpet cleaning service should be able to accommodate your needs and you can conveniently work around busy times, and that's how we deliver our service.
You can always get our services in Aberdeen, Amelia, Bellevue, Bethel, California, Chilo, Dayton, Dry Ridge, Eaton, Falmouth, Florence, Greenfield, Hamilton, Hebron, Independence, Jonesville, Kenton, Latonia, Lynx, Mason, New Paris, Newport, Okeana, Oxford, Patriot, Ripley, Ross, Sabina, Trenton, Union, Verona, Walton, West Union, and other cities throughout our OH service area.
Besides hospitality carpet cleaning, we also provide services for Steam Cleaning, Pet Urine & Odor Treatments, Wood Floor Replacement, Carpet Dyeing, Concrete Cleaning, Fire Damage Restoration, Smoke & Soot Restoration, Rug Cleaning, Encapsulation Cleaning, Sanitation & Disinfection, Duct Cleaning and many more! Call us today at 513-729-9793 or contact us online to get our services!