Church Carpet Cleaning Specialists in Cincinnati & Dayton, OH
At Teasdale Fenton Cleaning & Property Restoration, we are committed to keeping your church pleasantly clean, so that you can focus on your purpose. Your church's carpets are a clear indication of its cleanliness. First impressions count, and we'll make your house of worship as fresh to the eyes and nose as it can be.
Scheduling regular church carpet cleaning around worship or other events can be demanding. We'll be flexible with your staff and groups to make sure every space is available at its peak cleanliness, and that we aren't cleaning at times inconvenient for you. Additional cleaning can be provided before to or after major events, as well as regularly.
Contact us today at 513-729-9793 or from anywhere in our Cincinnati service area to learn more about our church carpet cleaning service and free estimates!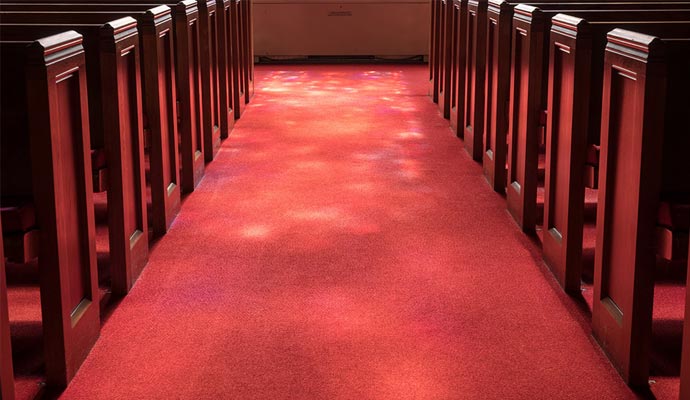 Teasdale Fenton is Your Church Carpet Cleaning Experts in Cincinnati & Dayton
Having church carpets cleaned by Teasdale Fenton Cleaning & Property Restoration has these benefits:
Extend Carpet Life: Our carpet cleaners use the best techniques to clean and sanitize your church carpets. This maintains the floor covering in mint condition and extends carpet life.
Strict Protocols: As professionals, we strictly maintain Centers for Disease Control & Prevention (CDC) COVID-19 guidelines and recommendations for cleaning and disinfecting. We'll help you with routine cleanups, know how to keep different surfaces hygienic and use effective products to maintain your church carpet's safety.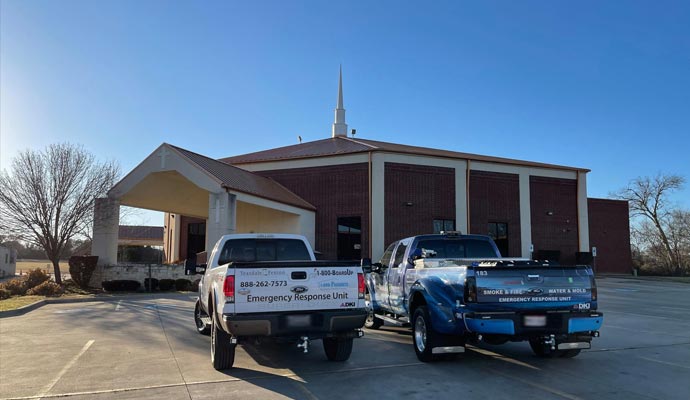 Professional Stain Removal: Thorough professional cleaning goes a long way towards reviving stained or spotted carpets without the need for replacement.
Affordability: Professional church carpet cleaning saves your business money in fewer church staff sick days. We'll deliver results superior to in-house church carpet cleaners.
Workplace Health: Effective church carpet cleaning reduces viral spread, improves air quality, keeps mold from forming and cuts down on staff absences.
Healthier Parishioners: In the post-pandemic era, we strictly follow CDC guidelines for COVID-19 and their additional cleaning protocols. Healthy carpets and environment are part of your church's investment. Visitors or members prone to respiratory illness should be protected.
Prevent Mold Growth: Certain carpeted areas can be susceptible to leaks or other wet sources. Professional cleaning and drying can prevent mold infestation. Teasdale Fenton Cleaning & Property Restoration can also help with current mold issues if discovered.
Trust Teasdale Fenton For Superior Church Carpet Cleaning in Cincinnati
Along with the best church carpet cleaning services in Greater Cincinnati, Teasdale Fenton Cleaning & Property Restoration guarantees:
Over 22 years experience in carpets and other cleaning
Expert understanding of handling industrial strength steam cleaners
Preserving your carpet to its best possible condition
No harmful or corrosive chemical cleansers
24/7 emergency response and stand-by call centers
Better Business Bureau (BBB) members and IICRC Clean Trust-Certified Technicians
Services that are 100% touchless for Covid-19 Response and Protocol, including those specifically for churches
We also provide services for steam cleaning, pet urine & odor treatments, wood floor replacement, carpet dyeing, concrete cleaning, fire damage restoration, smoke & soot restoration, rug cleaning, encapsulation cleaning, sanitation & disinfection, duct cleaning and many more.
We serve Aberdeen, Amelia, Bellevue, Bethel, California, Chilo, Dayton, Dry Ridge, Eaton, Falmouth, Florence, Greenfield, Hamilton, Hebron, Independence, Jonesville, Kenton, Latonia, Lynx, Mason, New Paris, Newport, Okeana, Oxford, Patriot, Ripley, Ross, Sabina, Trenton, Union, Verona, Walton, West Union, and cities throughout our Cincinnati service area. Call us today at 513-729-9793 or contact us online to learn more.