Portugal Rugs Cleaning Services in Cincinnati, OH
Portugal created area rugs in small quantities long before WWII. They still create rugs in small quantities and export the rugs to the U.S. to boutiques and vendors, because of this scarcity, not many rug restoration companies in the US are familiar with the Portuguese rug cleaning method. This is when Teasdale Fenton Cleaning & Property Restoration can help. Our cleaning specialists are familiar with Portuguese rug fiber and have figured out the best cleaning methods for it.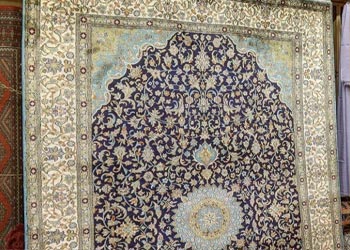 If you reside in Aberdeen, California, Erlanger, and other parts of Greater Cincinnati, reach us at 513-729-9793 or contact one of our representatives online.
Professional Rug Cleaning for Cincinnati Homeowners
Teasdale Fenton Cleaning & Property Restoration has a team of IICRC-certified rug specialists serving customers for many years. Our team is trained and experienced in color-correcting, repairing fringe, and providing the most suitable rug pad to protect your area rugs.
We start by inspecting the condition of your rug and then proceed accordingly. We look for faded spots, worn fringes, staining, and fix each issue with utmost care.
Tips to Minimize Rug Damage
Accidental spilling is unavoidable. Blot away the black coffee or margarita sauce right away with a white paper towel. Do not attempt to remove stains by scrubbing them with detergents or other chemicals as over-the-counter cleaning solutions are abrasive and might cause faded spots.
To prevent fading from sunlight, rotate your Portuguese rug once a while and use blind protection when the sunlight is too harsh. Also, avoid placing heavy furniture on your rug as it might ruin the fibers, we suggest using a rug pad for protection if this is unavoidable.
Teasdale Fenton Cleaning & Property Restoration provides free pick-up and drop-off service and is standing by 24/7 for catering to all your rug repairing needs. Call us at 513-729-9793 to know more!