Smoke Odor Removal in Cincinnati, Mason, & Aberdeen, OH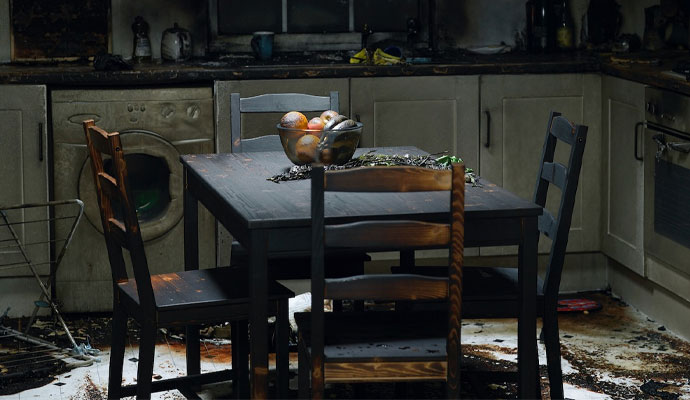 Fires can harm your health and property. Soon after a fire is put off, the odor of the smoke should be taken care of for preventing health hazards. Smokes from hazardous fires can contain toxic and corrosive particles that can cause breathing problems, trigger allergens, or create other health hazards. In Franklin, Mason, Amelia, and other cities throughout the Greater Cincinnati area, Teasdale Fenton Cleaning & Property Restoration provides all forms of fire and smoke restoration services, such as duct system smoke removal, soot removal, and board-up services.
When you need our help, call us at 513-729-9793 or contact us online for an immediate response. We serve customers in Aberdeen, Eldorado, Milford, and Cincinnati.
Professional Smoke Odor Removal by Teasdale Fenton Cleaning & Property Restoration
If soot and residue from a fire are left unattended for a long period, it will spread to your entire home, creating additional problems. Within a few hours, walls can get discolored, metals can tarnish, and appliances can start getting yellow. So it is important to take prompt action and call professionals for a thorough cleanup.
Our restoration procedure starts with inspecting your property, we detect the extent of damage and prepare an estimate of our services. Then we move on to cleaning residues and discarding ruined materials. It is important to steam clean carpets impacted by a fire, as carpets easily absorb smoke odor and can continue giving off foul odor for a long time if not cleaned properly.
Our odor treatment and carpet cleaning will make sure your carpets and rugs are completely clean and sterilized. To make sure the smoke odor is eliminated, we will use a vacuum that comes with a powerful HEPA filter. Then, using professional dehumidifiers, we will try to neutralize the odor.
Count on Teasdale Fenton Cleaning & Property Restoration to Remove Smoke Odors in Amelia, Franklin, & Cincinnati
In addition to smoke odor removal, Teasdale Fenton Cleaning & Property Restoration also suggests getting the air ducts cleaned so that the ventilation system functions properly and the air is not contaminated in any way. Our IICRC-certified team is trained and licensed to professionally remove smoke odors. Just call us at 513-729-9793 and our emergency response team will be dispatched to restore your property. We serve customers in Franklin, Mason. Amelia, Aberdeen, and Cincinnati.