Odor Removal Services for Carpets in Greater Cincinnati, OH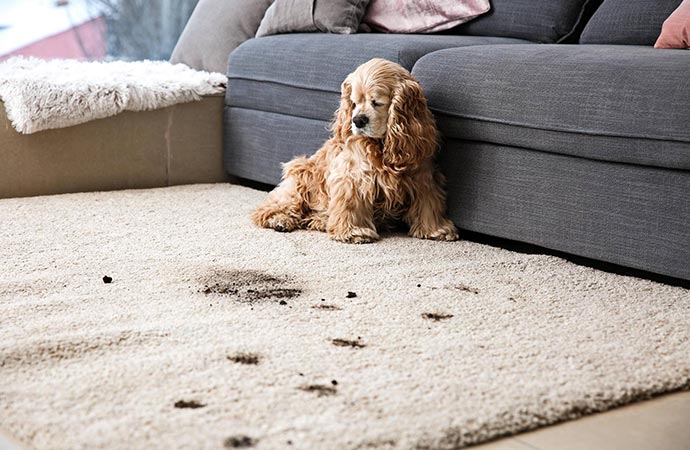 We all have accidents in our homes where we spill liquids or food on the floor. Furthermore, pets may pee indoors and there's a lot of reasons why there might be a bad odor coming from your carpet. No matter what the reason might be, the professionals from Teasdale Fenton Cleaning & Property Restoration can effectively remove the odor.
Our IICRC-Certified team utilizes time-tested and proven carpet cleaning methods to clean and remove odors from your carpet. We understand the importance of a decorative carpet in a household as most people either inherit or buy carpets that are meant to beautify their home, hence while killing odors, our team makes sure it is done very carefully and no harm comes to the fabric in the process. When you need odor removal for your carpet in Eaton, Dayton, Florence, West Chester, and nearby areas in Greater Cincinnati, give us a call at 513-729-9793 to make your appointment today.
Remove Odor Effectively & Affordably
The carpet cleaning specialists at Teasdale Fenton Cleaning & Property Restoration have the necessary resources, equipment, and expertise to effectively and affordably remove odor from carpets. We have experience working with various types of carpets including silk, wool, sisal, and more.
Spilled juices mixed with dirt and dust may give off a bad smell or odor over time. Our team can reach the root of the problem and clean years old stains. We also specialize in treating odor caused by pet stool and other accidents as well.
When an animal or pet has an accident there are many things to consider such as:
Urea
Urobilin/Urobilinogen
Uric Acid
Sodium
Other electrolytes
Creatinine
Pheromones
Bacteria – typically 5 different strains
Our carpet cleaning crew has the expertise to successfully remove the reasons behind the bad odor, deodorize your carpet and offer you a cleaner, and fresher carpet for your living room.
Let Teasdale Fenton Cleaning & Property Restoration Perform Odor Removal for Your Carpet in Ohio
Whether your carpet is harboring smelly stains, pet stools, or dirt, we can take care of it for you. At Teasdale Fenton Cleaning & Property Restoration, our carpet cleaning processes will remove pollutants from deep within and strengthen the fibers in your carpets, making your carpet textures cleaner and more vibrant. Call us now at 513-729-9793 or contact us online to make an appointment.
Additional Carpet-Related Services We Offer
Teasdale Fenton Cleaning & Property Restoration offers exclusive carpet cleaning services that cover all aspects of a dirty carpet and makes it new-like. Our carpet-related services include: