Air Duct Sanitization Service in Cincinnati, OH
The air ducts of your air-conditioners and furnace systems should be clean and free of dust and dirt. Dirty ducts mean contaminated air is circulating throughout your entire home. This might lead to triggered allergens and other respiratory problems.
The National Air Duct Cleaners Association recommends air ducts be inspected at least once every two years. However, if a member of your home has a compromised immune system, consider cleaning air-ducts at least once a year. In Alexandria, Springboro, Hamilton, and nearby areas in Greater Cincinnati Area, Teasdale Fenton can help. All you have to do is call us at 513-729-9793 and we will help you with more information!
Professional Air Duct Cleaning & Sanitization in Ohio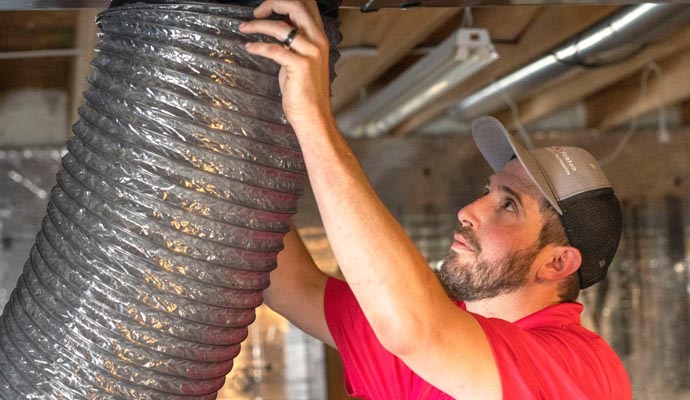 Our cleaning experts at Teasdale will first dust off the accumulated dirt and debris from your air ducts. They will also inspect the area around the vents for mold infestation, if mold or other harmful microorganisms are found in or around your duct, we will mitigate it as efficiently as possible. We understand that mold is a health hazard, therefore, once the mold is extracted, it is kept in an air-tight bag for safety.
Lastly, we will sanitize the air ducts for further safety. Once, we clean and sanitize your ducts, you can enjoy the clean and fresh air!
Clean Ducts for a Healthy Home
Our duct cleaning service does not only remove dust and mold but foul odors as well. Moreover, dirt-free ducts will make your HVAC units energy-efficient reducing your bills. Schedule a cleaning appointment with Teasdale today and enjoy the numerous benefits of clean air ducts!
Since 1999, Teasdale's has earned a name for quality and customer service throughout our service area. We have also earned numerous customer service awards over the years! So you can trust us with your HVACs!