Upholstery and Furniture Cleaning in Cincinnati, OH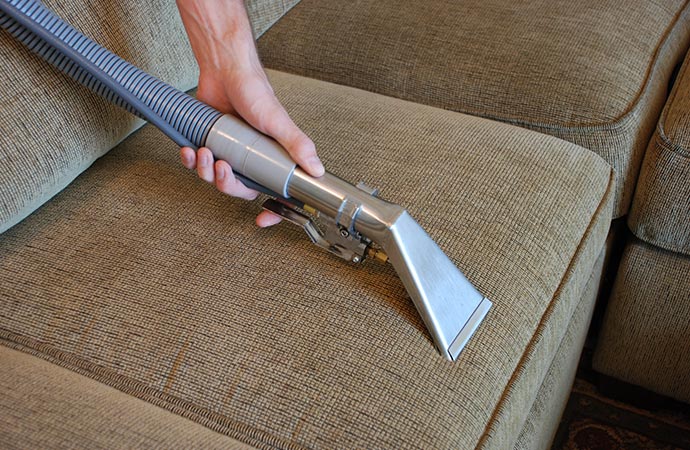 At Teasdale Fenton Cleaning & Property Restoration, we offer a specialized deep cleaning service to revive your upholstery and have it looking vibrant and smelling fresh like when you first bought it. Upholstery includes various items, materials and cleaning methods, so one cleaning process won't work for all your upholstered furniture and items.
Special characteristics such as color fastness and dimensional stability of the fabric must be considered and while steam cleaning is best for some items, others may require dry cleaning methods. Your Teasdale Fenton Cleaning & Property Restoration IICRC-certified technician will help determine the best cleaning solution by testing your upholstered surface, whether fabric or leather, before providing a thorough upholstery and furniture cleaning service.
Please note: our upholstery cleaning and deodorizing service comes with a full satisfaction guarantee.
Specialized Upholstery Cleaner
At Teasdale Fenton Cleaning & Property Restoration, we understand that different items may require more care and attention to detail than others. Some of our specialized upholstery cleaning services include:
Steam extraction or dry cleaning
On-site drapery and top treatments
Boat, airplane, RV & auto upholstery and carpet cleaning
Leather upholstery cleaning
Office furniture and partition cleaning
Office chair cleaning
Leather Furniture and Upholstery Cleaning
Leather furniture and upholstery are a major investment. Without proper care, leather upholstery will deteriorate with exposure to body oil, dust and UV rays. These contaminants can also settle into your leather surfaces and cause the leather upholstery to break down easier and more quickly.
Our Teasdale Fenton Cleaning & Property Restoration technicians use proven methods for safe cleaning and maintaining your leather's natural beauty. Our ph-balanced, specially formulated solution cleans, conditions and protects against penetration of soil, ink, grease and other damaging substances. It actually preserves the leather's natural oils to prevent peeling, fading and cracking.
Dry Cleaning
Just as many of your fine garments require dry cleaning, often your upholstery need an effective, waterless method for cleaning and preserving its beauty. Teasdale Fenton Cleaning & Property Restoration uses the best dry cleaning methods, solutions, and equipment to achieve optimal results when dry cleaning your furniture, upholstery, and draperies. But don't trust your cleaning to just anyone. Cleaning dry-clean-only upholstery or draperies with wet methods can ruin fabrics and any stain that requires water for removal can be treated before dry cleaning.
Trust Teasdale Fenton Cleaning & Property Restoration to Be Your Furniture & Upholstery Cleaner in Cincinnati
At Teasdale Fenton Cleaning & Property Restoration, our cleaning specialists are experts in identifying fabrics and employing the best cleaning methods, so you can enjoy peace of mind and beautiful furniture and draperies. Contact us today at 513-729-9793 to have your upholstery and furniture cleaned in Greater Cincinnati, OH.
Furniture Steam Cleaning Coupons