Pet Odor Removal Services in Cincinnati, Burlington, & Dayton, OH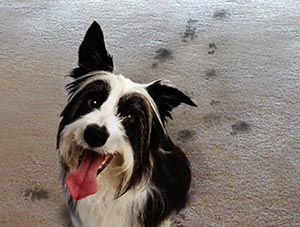 Contact the experts from Teasdale Fenton Cleaning & Property Restoration to have your rug professionally cleaned and remove pet odor from your carpets and area rugs throughout our Greater Cincinnati & Dayton service area, including the cities of Burlington, Dillsboro, and Felicity. If not addressed immediately and cleaned professionally, pet urine can significantly damage rugs, as well as the flooring underneath, while causing quite a smell.
Visit Our New Rug Cleaning Website
Our IICRC-certified technicians can treat urine stains and odors, mildew damage, and color-correct dye bleeds. After we clean your rug, we will seal and protect the surface to resist stains and apply an insect deterrent application to repel moths, carpet beetles, and insect larvae. For more than 15 years, Teasdale Fenton Cleaning & Property Restoration has provided elite pet odor removal services in Alexandria, Cleves, and throughout our local communities.
Damages Created by Pet Urine, Pet Stains, & Pet Odors
Lingering Pet Odor
Pet urine permeates through the rug to the rug's foundation, rug pad, and then to the floor causing odors to linger. It weakens the backing of the rug as well as damages the floor. Repeated pet accidents can cause irreversible damage to your rug.
Not only does pet urine weaken, damage, bleach, bleed and stain area rugs, the odors of pet urine are also very hard to remove. The uric acid component of pet urine accounts for the lasting odor. Uric acid forms salts and crystals that bind to area rug fibers and are hard to clean and remove. As these crystals are exposed to water or moisture from the air, they continually release their odors. To remove them, Teasdale Fenton Cleaning & Property Restoration has special chemicals.
Cleaning Pet Accidents on Your Rug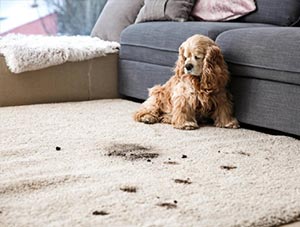 In the event of a pet accident, remove any pet waste debris from your rug and then blot, not rub, the area gently with a clean white cotton towel. You may add a little water when blotting the soil but beware of soaking the area with too much water as this can make the stain worse and cause water staining.
Count on Teasdale Fenton Cleaning & Property Restoration to Remove Pet Odors in Latonia
At Teasdale Fenton Cleaning & Property Restoration, our pet odor removal services are proven and effective. For most of two decades, we have been creating legions of satisfied customers in Decatur, Latonia, Hamersville, Manchester, Neville, and other cities within our Cincinnati & Dayton metro service area. While we are cleaning your rugs on-site at our state-of-the-art facility, storage and shipping services are also available. When you need our help, contact us today at 513-729-9793 or more information or to schedule an appointment. Some of our most popular services include:
Cleaning rugs for over 15 years
Rug cleaning & repair specialist
State-of-the-art cleaning equipment & facility
Stain removal experts
Certified to clean even the most delicate rugs