Tarp Over Service for Fire Damaged Properties | Cincinnati, OH
If your home or commercial space suffers from an unfortunate fire incident, call a restoration company right away to minimize further damages. In Amelia, Cincinnati, Hamilton, and surrounding areas in Ohio, Teasdale Fenton Cleaning & Property Restoration is the place you can trust. We have been providing satisfactory restoration services since 1999.
Along with fire restoration, we have also been providing commercial cleaning, mold remediation, and carpet cleaning services. Call us at 513-729-9793 to know more!
Why Should You Consider Tarp Service after a Fire?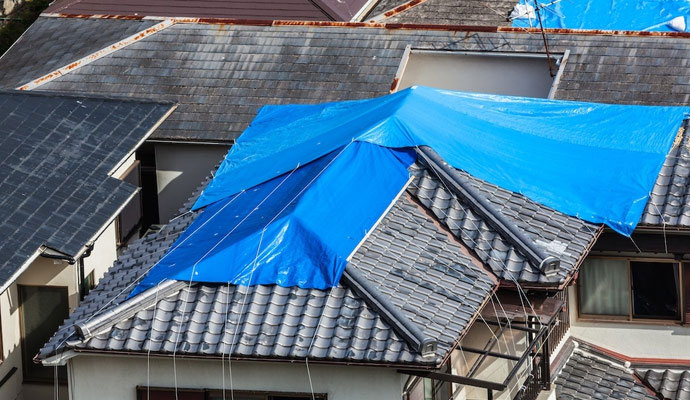 The roof of your house is the most essential part when it comes to your protection. It protects you from rain, wind, storm, dirt, and all other unwanted substances. When your home suffers from a fire accident, the roof will inevitably be affected. Holes, dents, or missing parts in the roof means your property is in a vulnerable state. If it rains, your entire home will be flooded within minutes. Missing parts in the roof mean your property is not safe from intruders as well.
Hence, at Teasdale Fenton Cleaning & Property Restoration, we recommend you consider tarp-over service for your roof if it has been damaged by a fire or storm. It will protect your home from further damages saving you from expensive bills.
Trust at Teasdale Fenton Cleaning & Property Restoration's 24-Hour Emergency Restoration
At Teasdale Fenton Cleaning & Property Restoration, we understand the importance of emergency response when it comes to fire disasters. Hence we have an emergency team who is standing by 24 hours a day. Once we get your call, we will dispatch our team the soonest!
Our team of experienced technicians will work efficiently to ensure you can return to your normal life soon. We will provide tarp-over, board-up, smoke removal, and any other service that might be necessary to restore your property. Call us to know more.