Cubicle Wall Cleaning in Cincinnati & Dayton, OH
Whether your office houses a law firm, a retail store, or a call center, there is a good chance that many of your workers operate from a cubicle to minimize background noise while on the phone. You will want to keep the upholstery in employees' cubicles neat, tidy, and clean to maximize productivity.
Fortunately, Teasdale Fenton Cleaning & Property Restoration provides commercial customers throughout the Cincinnati & Dayton, OH areas with the most efficient cubicle cleaning services. When you need our help in Amelia, Cincinnati, Dayton, Milford, and other cities within our service area, give us a call at 513-729-9793 or click here to make an appointment!
Importance of Professional Cubicle Cleaning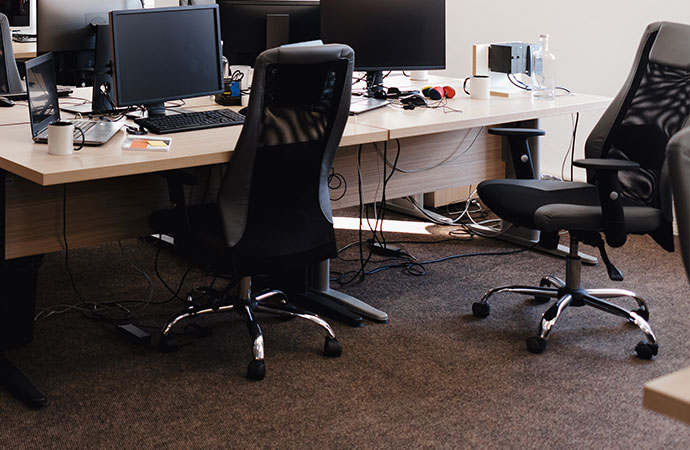 A clean office environment is extremely important to the productivity and work output of employees. Part of keeping your office building sanitary and free of contaminants such as dust, dirt, and allergens, is to keep the upholstery clean. Cubicles are used as an efficient yet simple way to maximize workspace, create a more private work area, to allow more workers to be placed in a building more conveniently.
Although a cubicle is a type of wall, it cannot be simply wiped down like a painted, permanent wall can be. Most cubicle walls are constructed with a fabric overlay that can collect dust, germs, bacteria, dirt, and other contaminants. The experts at Teasdale Fenton can remove those pollutants that can cause adverse effects on the health of employees, visitors, and yourself.
Let Teasdale Fenton Cleaning & Property Restoration Clean the Cubicles at Your Office in Cincinnati & Melbourne
Contact Teasdale Fenton Cleaning & Property Restoration online or call us today at 513-729-9793 for a free estimate about cubicle cleaning services in Melbourne, Mowrystown, New Paris, and other cities within our tri-state service area. When you choose Teasdale Fenton Cleaning & Property Restoration, the benefits include:
Cleaning carpets for over 15 years
Carpet cleaning & repair specialist
State-of-the-art cleaning equipment & facility
Stain removal experts
Certified to clean even the most delicate carpets