Steam Cleaning in the Cincinnati, OH Area
At Teasdale Fenton, we know that your floors are an important investment in your home and that many homeowners have a preference for cleaning methods for their carpet.  That's why we offer several options to fit your cleaning preferences.
Carpet Steam Cleaning Services 
Steam Cleaning is a deep cleaning process that involves water extraction. It is the carpet cleaning method most recommended by manufacturers of carpet and carpet fiber. While other methods may effectively clean the carpet's surface, only steam cleaning penetrates carpet pile and effectively removes dirt and soil. The steam carpet cleaning process involves a fine spray of cleaning solution and hot water, which pushes out trapped dirt and instantly vacuums it away into a holding tank. Because the soil and moisture are not circulated in the air, steam cleaning is a healthy, non-invasive way to clean carpet. Another advantage of steam cleaning is the complete and thorough removal of all cleaning agents and moisture. Other cleaning methods, which do not adequately remove residual moisture and cleaning solutions, can lead to the development of mildew and mold in the carpet fiber.
Though steam cleaners are available, they aren't thorough. Home steam cleaners don't typically reach the proper temperature for adequate cleaning. Additionally, these systems can leave behind too much moisture, which ultimately attracts more dirt and leads to mold and mildew. Why risk damage to your carpet, or worse, make your family ill? Trust Teasdale Fenton to professionally steam clean your carpet, and make it look like new.
Teasdale Fenton employs the Butler System, the most advanced mobile cleaning system available. We also supply our own water and electricity, so we never need to use yours.
Hot Water Extraction (HWE) 
Our fleet of truck-mounted hot water extraction equipment deploys the most powerful and technologically advanced HWE system available. We use a professional truck mounted system, considered #1 in the industry.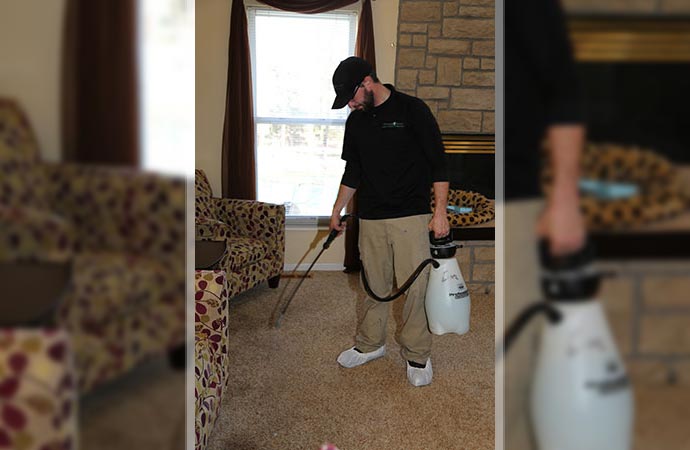 High-Performance Portable Extraction (HPPE) 
Due to many factors such as security, access or project location, there is no "one-size-fits-all" answer, despite what you may have been told before. High-Performance Portable Extraction (HPPE) is another alternative that Teasdale Fenton offers to keep your project looking its best. Using only the most powerful portable systems available, Teasdale Fenton can utilize rotary extraction heads with the proper chemistry and outperform our competitors' "best" everyday results.
Let Teasdale Fenton in Cincinnati put some Steam in Your Cleaning Process
When you need your carpets steam cleaned, Teasdale Fenton is your best option for homeowners in Greater Cincinnati or Northern Kentucky. Contact us online or call us at 513-729-9793 for a free estimate or to learn more about our superior cleaning services.