Benefits of Duct Cleaning, Cincinnati OH 
Air Duct Cleaning is the removal of dust and contaminants within the ductwork. Over time, the air ducts in your home will accumulate dust, dirt, and harmful microorganisms like mold and bacteria. Therefore, regular maintenance and cleaning are recommended by the EPA for safety. The National Air Duct Cleaners Association also recommends air ducts be inspected at least once every two years. Teasdale Fenton Cleaning & Property Restoration provides HVAC cleaning services in Alexandria, Springboro, Hamilton, and nearby areas in Greater Cincinnati Area.
Want more information? Just click here or call 513-729-9793.
Some Amazing Benefits of Duct Cleaning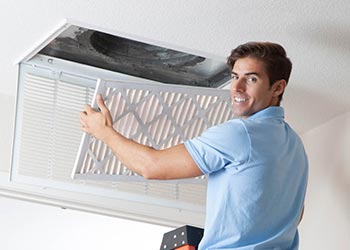 Better airflow: If the air ducts have a heavy build-up of dust and grime, it can restrict the flow of air of your HVAC system. Clean ducts will ensure the airflow is more efficient.
Cost-effective: Dirty air ducts decrease the efficiency of HVAC units because to maintain a comfortable temperature, both your furnace and air conditioner are forced to work harder. This will inevitably increase your energy bills. If your air ducts are clean, the increased efficiency of your HVAC system will make it cost-effective.
Improvement in indoor-air quality: If dirt or mold is stuck in your ducts, it will circulate throughout your home. Cleaned air ducts will provide your home with better air.
Removes unpleasant smells: Odors from paint fumes, mold, tobacco, and even food preparation gets accumulated in your air ducts. So every time you switch on your air conditioner or furnace, these odors will repeatedly flow through the house. Detailed cleaning of the air ducts removes all odor trapping particles.
Increased lifespan of the HAVC system: When a professional team is hired to clean your air ducts, they will also look out for minor malfunctions that should be fixed. This means you will have to deal with fewer expensive repairs from wear and tear in the long run.