Starting Insurance Claims for Flood Damage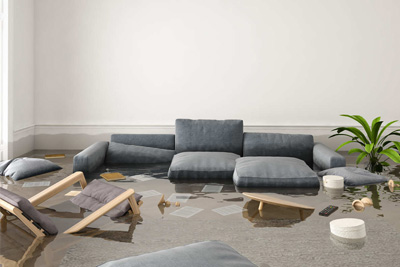 When a flood happens and damages your home, surveying the destruction and the losses can bring overwhelming feelings of despair. You will find that not only is your home soaked, but items you hold dear like your grandfather's favorite armchair or your dad's old bookcase are damaged by flood waters. What do you do when this happens and how can you recover from such a loss?
If you check your insurance policy and you find that you have flood damage coverage, you can breathe easier since this means that you can have the repair and restoration of your home covered by your insurance. Your grandad's armchair can be restored with the help of content restoration, and the same goes for your dad's old bookcase and water damaged books. Before you can claim the financial aid that you are entitled to, however, you first need to file a claim with your insurance company.
How to Properly File a Claim for Flood Damage
When you are filing a claim for flood damage, you should know that there are precise steps for you to follow. Not following the steps for proper filing of these claims may void your insurance claim, leaving you to shoulder all of the cost of repair and restoration on your own. To ensure that this does not happen, here are the steps you need to take in filing your flood damage insurance claim:
Call your insurance company ASAP – You can do this while the flood is happening or immediately after. Just make sure that you get in touch with your insurance provider as soon as possible so they can send an adjuster to survey your home and to provide you with an estimate for the damage that was done.
Document the damage – To properly document the damage, you need to take pictures and videos of your home and everything that was destroyed or damaged by the flood. Aside from pictures and videos, you should also list the items were damaged or lost in the flood, taking note of items that can still be repaired and restored, and listing items that are beyond repair. Don't clean the place up until your adjuster arrives. If necessary, to ensure that no additional damage happens to your home and no vandals enter while you are waiting for your adjuster, have the place boarded up and tarped.
Sign a proof of loss statement – Once your insurance adjuster has assessed the damage to your home, they will hand you a document that certifies they have checked your home and your damage claims have been verified. This is a proof of loss statement. You will need to sign this before your claim can be processed and an amount can be released for your restoration and repair work.
Once you have successfully filed your insurance claim and you are ready to have your home restored to its original form, you need to contact a reliable restoration company, like Teasdale Fenton Cleaning & Property Restoration, for help. You can trust us with your home restoration needs after a flood or storm damage in Cincinnati, OH. Our trained and certified restoration and cleaning team can get your home or business back on track in no time.
To get help with water damage restoration after a flood and to ensure that your home is fixed the way it should be after such a disaster, contact us at 513-729-9793 and we will be ready to help you.